Eternal is a custom made solution includes all the necessary components as a single piece to ensure customer's compliance with it's data protection goals achieving organizational SLA for RPO\RTO.
In an Eternal package that is customized to the customer's needs, Eshnav includes a commitment to provide guaranteed SLA and RPO & RTO planning together with the customer. The solution also includes detailed planning for the recovery capabilities required for each and every customer and thus the package is built.

The Eternal package is marketed as a whole package that includes all the required hardware (servers, libraries, storage arrays and backup libraries), the technological core for information protection (based on IBM Spectrum Protect capabilities), a complementary management product that facilitates operation and monitoring, as well as a 24/7 commitment to SLA of a window.
The solution is based on collaboration with Lenovo or Fujitsu servers of the customer's choice, together with storage systems from the above manufacturers, IBM backup libraries and Object Storage solutions from a variety of manufacturers.
The ETERNAL Solution
A data protection solution, aimed mainly at small- and medium-size organizations; based on the leading data protection technology in the market
Uses the proven progressive incremental forever backup methodology, eliminating the need for long, exhausting and recurring full backups
Protection for both physical servers and virtual environments
Hardware-agnostic solution, allowing storage of protected data on any type of media (tapes, disks or cloud, for example)
Deep integration for advanced data deduplication capabilities
DR-ready, high availability multi-site data protection solution
Comprehensive, easy-to-manage, cloud-ready data assurance
Intuitive user interface for analytics reports, predictive capabilities, and billing tools; with simple connectivity to existing backend and storage systems
Suitable for those without backup expertise

Works with a wide variety of applications and operating systems
Significant hardware cost reduction
1 GB and up of assured managed data
Highly attractive pricing, with low TCA and TCO
The technological advantage
ETERNAL's technological core is based on the IBM Spectrum Protect technology (formerly known as Tivoli Storage Manager or TSM), which has been long defined as a market leader according to industry analysts (Gartner, IDC, etc.)
As the technology has primarily been deployed for large organizations, it incorporates advanced capabilities that streamline the enterprise data backup and recovery process to the greatest possible extent
:
Incremental forever - rapid backup and restore
Deep integration for enterprise-wide virtual infrastructure backups
Deduplication, backup to disk and tapes
Storage integration to perform hardware-based snapshots
Support for a broad range of operating systems and applications for the backup of physical servers
Replication for disaster recovery (DR) and high availability (HA) between remote locations
TSM relies on IBM's DB2 database technology. DB2 makes managing vast amounts of information possible, while maintaining short response times and requiring minimal infrastructure. DB2 and a single backup server make all the advanced Spectrum Protect capabilities possible.
Incremental forever – no more full backups
Restoring to a point-in-time with a single quick operation
One challenge IBM's engineers were able to pinpoint a long time ago as a growing problem of the backup process is the transfer of all an organization's information through a backup server to the backup media. It takes a long time, it places an intense load on network resources, and, of course, it increases the amount of storage media required to maintain the backup.
So, they developed a particularly smart algorithm that can perform regular backups only of those changes made to a system since the previous backup. This eliminates the need for a full backup of the data on a weekly, monthly or yearly basis, while reducing the time needed for recovery.
The method is called
progressive incremental forever
. And to this day, there is no technology on the market capable of implementing this backup method as effectively as IBM's technology (in terms of restore time metrics for backup of changed data over particularly long periods of time).
This is what the backup cycle looks like in organizations not using incremental forever technology (which is most of them
), as opposed to the cycle for those using it
.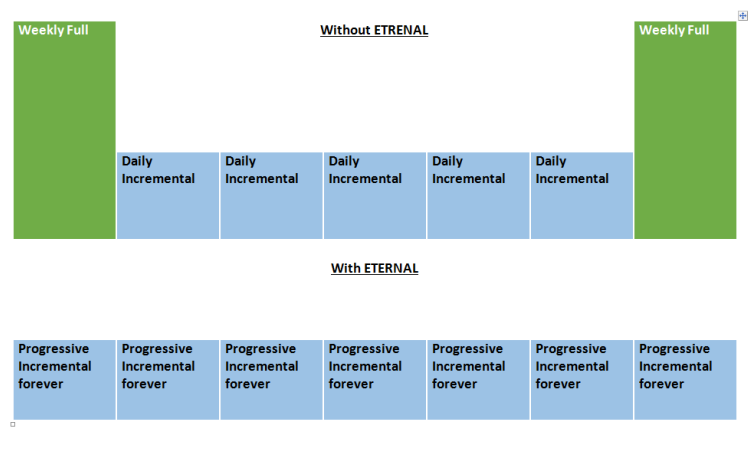 With the incremental forever methodology, the backup window is shorter by about 90%, the backup storage capacity is significantly smaller, and the burden on the production environment is minimized.
Broad integration for enterprise-wide virtual infrastructure backup
Today, most enterprise infrastructures are virtual. Common virtualization platforms on the market are VMWare's vSphere and Microsoft's Hyper-V.
ETERNAL technology enables broad integration for effective backup of these infrastructures and interesting recovery capabilities.
Block-level incremental forever - While non-virtual environments support file-level resolution for backups, in virtual environments the resolution is block-level. The integration with the virtual platform provides TSM the information about the blocks that have changed and are needed for recovery. This way, the advantages of progressive incremental forever are even more pronounced.
Agentless file-level restore – In a virtual environment, backup and restore can be performed without installing an agent.
Instant access recovery for the entire VM and for a single drive.
Granular application item-level recovery for MS-SQL and MS-Exchange.
Snapshot-based backup for storage systems
A database or a copy of the data can be backed up through the creation of a snapshot of a consistent group of volumes.
TSM uses Tivoli Flash Copy Manager (FCM) to initiate and manage automated application-consistent Snapshot backups. FCM puts the application in a backup mode and uses the built-in capabilities of various storage arrays to create application-consistent snapshots. This technology enables rapid recovery of large volumes of information and shortens recovery times.
The purchase of a capacity-based TSM license includes licensing for FCM.
Advanced deduplication capabilities
Backed-up data naturally contains many pieces of duplicated information, as the backup process creates multiple copies of the same data at different points in time. Therefore, a technology that can identify duplicate elements of information can significantly reduce the storage volume necessary to maintain backups.
Deduplication is a technology for preventing data duplication. In effect, it is a key element associated with reducing the volume of information stored on backup servers and passing through the network. This technology makes it possible to condense the stored information and maximally exploit backup storage volumes.
The deduplication process begins with identifying duplicated data before it is sent for backup (client-side deduplication). It continues with identifying repeated pieces of information on the backup server itself (server-side deduplication).
ETERNAL's deduplication capabilities are the best on the market, combining deduplication at both the source (client server) and target (backup server) systems, without the need for dedicated hardware or servers. It is designed to: help organizations reduce the amount of data sent to backup; reduce the volume required to store backups; reduce management complexity; reduce infrastructure load; recover information quickly; and lower licensing costs with the reduction in the data volume.
ETERNAL is based on one of the most robust databases on the market today (currently DB2 10.5 Enterprise). This database makes extensive data reduction capabilities possible.
The deduplication technology can be used in combination with compression.
ETERNAL can carry out variable block size deduplication, in which the deduplication technology can examine blocks of differing sizes for optimal identification of duplicated data.
Index management does not exist for ETERNAL; as long as the backup is saved, the indexes are saved with it.
Replication for DR and HA backup solutions
Organizations need to maintain maximum data availability and the capability to recover their data even when their primary site is unavailable for any reason. Understanding this, leading backup solutions provide various technologies for data redundancy. In addition, some organizations are required by regulators to generate a third copy of their data in a backup site for handling an extreme case in which their two data centers are unavailable.
To ensure an organization's ability to return to production quickly, without losing corporate information, a disaster recovery (DR) system is needed to track the flow of information and replicate backed-up data to a secure remote site. Thus, the information preserved on the DR site is a current image of backed-up corporate data. In the event the organization's primary backup server is unavailable, the data can be restored automatically and immediately from the secondary backup server.
ETERNAL has full or selective replication capabilities, for the transfer of backed-up data to a DR site.
The replication uses deduplication capabilities to prevent duplicate copies of data on the network.
If the primary backup server is unavailable, restore from the DR server is performed completely automatically.
ETERNAL has many advantages over other solutions, in its use of replication among TSM servers:

Replication to different types of media
Replication among all the sites is based on a global deduplication database
Replication to more than two servers (many-to-one)
Replication in both directions simultaneously
Automatic recovery from the DR server
Different retention and recovery policies at different sites (dissimilar policies)
Prepared to operate the customer's environment from the DR site
Cloud ready
ETERNAL leverages extensive integration capabilities for cloud-oriented infrastructure backups. With maximum flexibility, the solution can be implemented in a variety of ways:
An on-premises data protection server with hybrid storage destinations - both in the cloud and on-site.
Cloud storage integration utilizing REST APIs, allowing a choice of Amazon S3, MS Azure or IBM Softlayer storage destinations.
With a built-in capability of reducing data transfer between cloud storage and on-premises backup servers.
Physical or virtual DR backup severs located off premises.
Leveraging WAN acceleration capabilities for NODE replication processes.
Hardware savings - competitive positioning
ETERNAL offers significant hardware savings, compared to competing solutions.


Supports a variety of operating systems, applications, and bare metal restore (BMR)
ETERNAL supports a wide range of operating systems:
Windows
Linux
Aix
HP-UX
SOLARIS
Z-Linux
Linux on Power
ETERNAL also supports a wide variety of applications, such as:
Microsoft SQL
Microsoft Exchange
Microsoft Active directory
IBM DOMINO
Oracle Database
ERP
ETERNAL includes bare metal restore (BMR) capabilities, which can restore an entirely lost server to another physical server, or even directly to a virtual machine (supported for Windows and Linux servers).
Unique capabilities

Backup cloud environments - Ethernet also allows the customer to back up their cloud causes, including 365 backup, Sharepoint backup Enterprise CRM backup and more

.


BMR capabilities and automation for recovery processes for servers from different operating systems - Windows \ Linux \ Aix etc. Convert servers from virtual to physical servers. Transfer servers between different hardware and more




Backup less common virtualization systems like - KVM, Ovirt, Redhat, Citrix Xen Servers, Nutanix, oracle VM & Proxmox



Backup of unique databases - PostgreSQL, SAP, MongoDB, MySQL & MariaDB.

The most effortless customer experience

Simple management, user-friendly interface
ETERNAL was developed with an emphasis on ease of use. This is reflected in an intuitive management interface for the backup server - the Operation Center.
From the Operation Center, the backup administrator can easily view the status of his organization's backups at any given moment. In addition, he can configure new backup settings and submit specific on-demand backups.
Click here to try ETERNAL's Operation Center interface.
In addition to the Operation Center, ETERNAL provides a comprehensive solution with several additional capabilities based on Servergraph.
Servergraph is an advanced reporting interface for the TSM that provides:
Reporting automation, with regular reports sent on a daily, weekly and monthly basis.
Event and error detection, with real-time reporting to enterprise monitoring systems.
Trend analysis and reports for growth forecasts.
Customizable dashboards.
Click here to experience the Servergraph interface.